While all eyes were on the newly-inducted King and Queen of the United Kingdom and the Commonwealth, fashionistas from across the world were scrutinizing what the distinguished guests wore to the ceremony, and our Canadian team definitely looked the part.
The 48-year-old grinned alongside her husband, Prime Minister Justin Trudeau, donned a light pink gown with puffed chiffon sleeves.
Her outfit, however, is eliciting conflicting opinions on social media. While numerous fans adored her gown's beauty, others thought it was too casual.
What she wore
Sophie's stunning hat was purchased from The Saucy Millinery in Ottawa. The wide-brimmed, off-center design had a white lace veil that contrasted with her long dark hair.
The mother-of-three wore a blush pink dress from British label Ted Baker. The gown had enormous transparent sleeves, a simple mock collar, and a tea-length silk skirt.
Trudeau picked a purple handbag by Toronto-based brand Ela Handbags to contain her stuff. The Milck Clutch bag is from a previous collection and has hand-cut rose petals.
The Canadian connection
Sophie was first seen with her husband on their way to Westminster Abbey.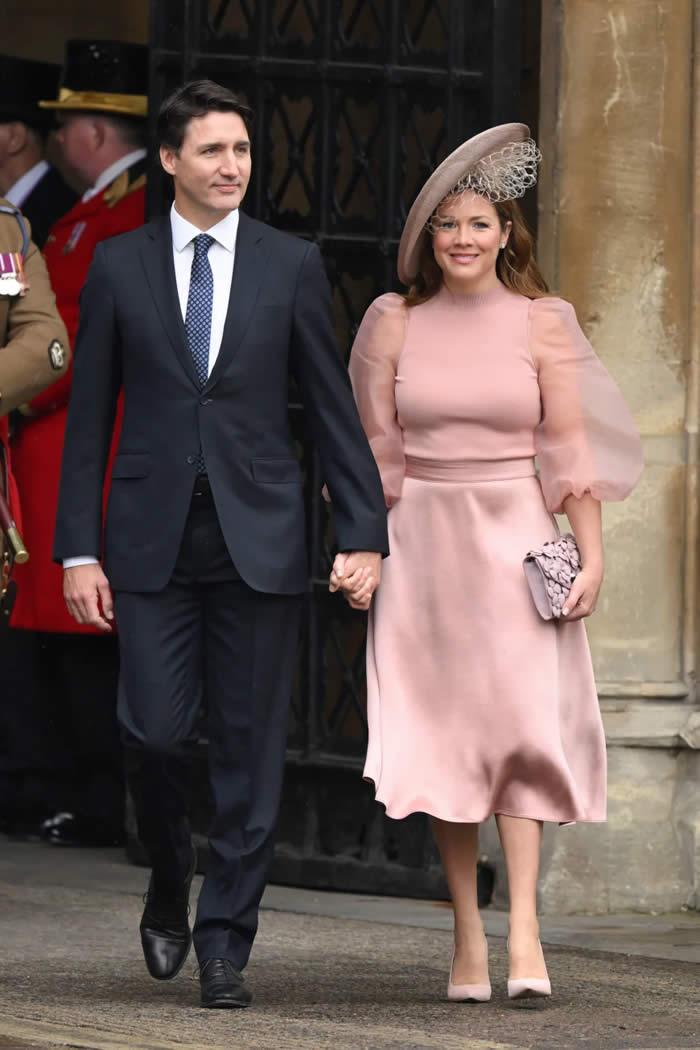 The public speaker is known for wearing Canadian designers, and this ensemble is no exception. Trudeau picked two Ontario-based Canadian designers to complement her clothes.
Her hat was handmade by The Saucy Milliner in Ottawa, which is famed for its heirloom-quality designs. According to the brand's website, milliner Kelly Dunlap "passionately combines professional, traditional hat making techniques, along with the highest quality of luxury, sustainable materials."
Sophie accessorized with a whimsical yet sophisticated clutch by ela Handbags. Ela and Martin Aldorsson co-founded the Toronto-based firm, which uses vegan leather and aspires to a "high level of craftsmanship."
According to reports, around a dozen Canadians were present at Westminster. They were among the ceremony's almost 2,000 attendees, who included world leaders, aristocrats, community workers, and first responders.
Flag-bearer and astronaut Jeremy Hansen led the Canadian delegation, which included Governor General Mary Simon.
Indigenous leaders were also in attendance. RoseAnne Archibald, President of Inuit Tapiriit Kanatami Natan Obed, and Cassidy Caron, President of the Métis National Council, were among those present.