On Saturday, Cara Delevingne launched the "Cara D for DKNY" capsule collection in her hometown. She made the rounds in London, starting at Harrods, then Harvey Nichols and Selfridges, ending the day at DKNY's London flagship store on Old Bond Street.
Throughout the day, Delevingne tweeted clues under the hashtag #CaraD4DKNY and #CARAvan as to where she was headed each step of the way.
Delevingne took a photo with the Harrods signature "green men," did a beat-boxing and break-dancing session at Harvey Nichols and took selfies at Selfridges. During the final stop at the DKNY store, Delevingne was presented with a custom cake representing her favorite piece in the collection a bomber jacket. Along the way, Delevingne changed into various pieces from the "Cara D for DKNY" capsule collection.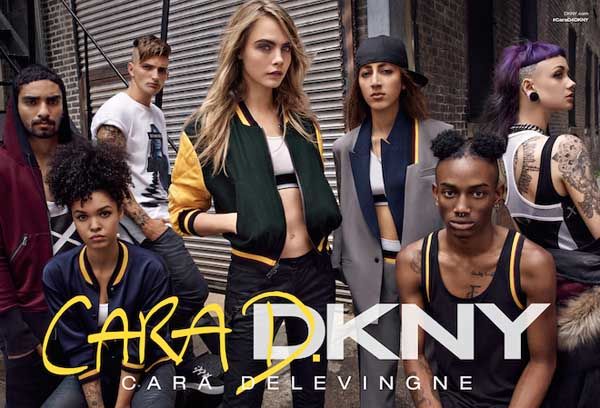 These appearances followed a previous one at Bloomingdale's in New York on Oct. 11. Delevingne stepped out onto the Bloomingdale's 59th Street marquee on Lexington Avenue, holding a sign with her hashtag #CaraD4DKNY to celebrate the launch. The first 25 people to prepurchase a piece from the "Cara D for DKNY" collection got VIP access to take a selfie with Delevingne, and the first 100 people to purchase from the collection on Oct. 11 got an autographed poster by Delevingne and a limited-edition #CaraD4DKNY tote bag.

The 15 pieces in the collection feature many of the model's favorites, from a sweat suit to tank tops, leather bombers and a parka. Most of the pieces are unisex, and retail prices range from $70 for beanies and $150 for T-shirts to a $735 leather motorcycle jacket with removable sleeves.